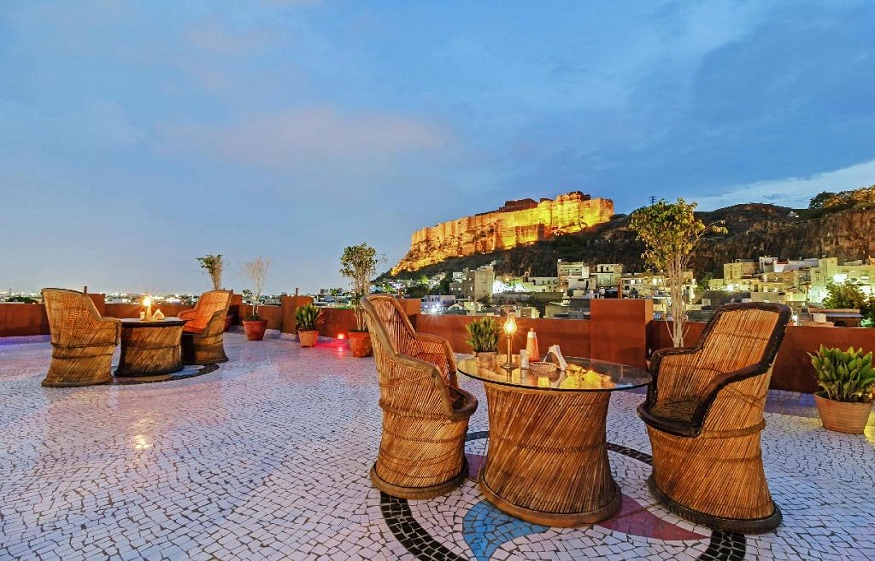 The main attraction of Jodhpur is  its fort  called Mehrangarth, its central square built around  the clock tower , and  its markets . Do not hesitate to  stroll through the streets of the old town , taste the  spices  and  tea , and why not buy  traditional clothes  such as turbans, saris or even the multicolored bracelets that women love.
By the way, we are Franck and Richard. We are travel bloggers and have been exploring the world by sharing our inspiring stories, itineraries, city guides, practical advice and alternative tips with you since 2008 on. Learn more
jodhpur fort franck and richard
Travel story with our good restaurants and accommodation addresses, photos and video  of the visits and the city are on the program to  dream  and why not  prepare your next trip to India . Good reading.
Itinerary in North India: trip to Rajasthan
Welcome aboard the   OneDayOneTravel travel blog . We tested a  travel itinerary in North India: Delhi,  the Taj Mahal  and Rajasthan . We share with you  our stories, advice and tips  to make you dream and to help you  prepare for your  first trip to India  and Rajasthan in  particular. we visited palaces and forts, wandered the alleys and souks of the old towns, slept under the stars in the Thar desert and came  back with our heads full of memories and colors, and a little changed all the same.
When to go and when to visit Jodhpur?
A few tips and tricks
The best time to visit Jodhpur is  from October to March .
Indeed, from April to September, the temperatures can become extreme and therefore not conducive to visits. We chose to  leave in April  because we are used to the heat and  during this month of transition, the temperatures are often still bearable . This year, they were worthy of a good hot day in southern Spain or Italy. And yes, the climate is very dry. It is therefore necessary to provide  sunscreen and drink plenty of water, in bottles of course, to avoid sunstroke and intestinal problems.
it is the  low season  in all of northern India. Result:  the locals are very available  which facilitates exchanges and we find ourselves almost  alone for the visits  apart from a few Indian tourists. In terms of accommodation, everything is cheaper and there is room in all establishments.
Visiting Rajasthan in April is a good traveler plan to travel less expensively provided you don't suffer from the heat of course.
To book your flight to India at the best price, find our tips and  advice for booking a cheap flight  online in our dedicated article. The average price of a flight is around